Michael Johnson was cheered across America as he won two gold medals at the Atlanta Olympics in 1996, and almost everyone was paying attention to what he had on his feet: a pair of Nike cleats Golden. He eventually earned the nickname "The Man in the Golden Shoes" and Nike decided to capitalize on Johnson's fame with a pair of lightweight training shoes called the Zoom JST, a sneaker version of his track cleat. JSC. Black shoes with gold stripes, released in 1998, have become a legend among shoe connoisseurs. They have never been reissued and are hard to find on the secondary market. And the pairs that can be found can fall apart with a single wear, making Johnson's sneakers a fading piece of Nike history.
With the Olympics due to take place in Rio de Janeiro this summer, there is a new generation of athletes looking to make history like Johnson. To celebrate the upcoming games, he was at a Nike Olympic event in New York the other night, and we got a chance to talk to him about his gold shoes, some forgotten Nike sneakers, and a recent Nike collab that looks pretty much like his own JST shoe.
Your sneaker, the JST, has become a legend among niche sneaker collectors. How did this whole shoe come about?After the golden shoes project, we decided to make a sneaker. The process was fun because we didn't have to worry about the technicalities and how it was going to work like we did with the tip. [The spike] had to go through a lot of testing, because we wanted it to look cool, but we had to make sure it worked well. The sneaker was a lot of fun, because it all depended on the look of the shoe. We wanted to have gold elements, so it was really fun to do.
Do you still have any pairs left?
Yes, I still have some. I have one that I've never worn.
Afraid to put them on your feet?
Yeah, because then there's no more.
Do you hope Nike will downgrade the shoe? Have you talked about it with them?
It would be cool to bring it back. Maybe one of these days they'll bring it back.
Has there ever been talk of Nike making a second sneaker for you?
No, I retired a few years later. So it was just that one.
Have you seen the recent Olivier Rousteing x Nike sneaker that looks like yours?
I haven't seen that one. Is this a scam of my shoe? [Laughs]
[Shows him a picture of the shoe]
It looks like it. That's it!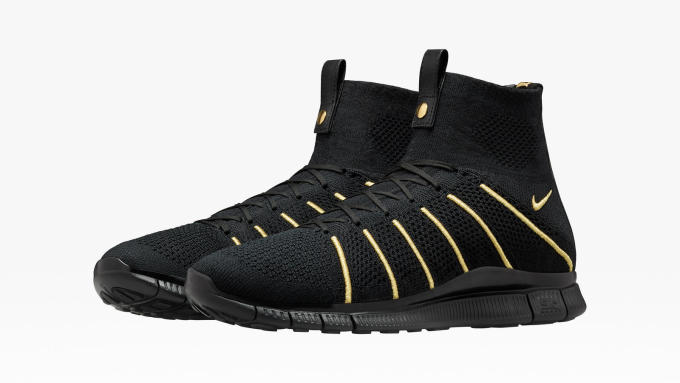 When you did the gold trail peak, did you know it was going to be that color?
No, it wasn't gold at all at first. It wasn't about the color, it was about the shoe itself. I wore a cleat plate—and it was almost 1996—that was made in 1984. The shoes had evolved, but I wore it because I liked it so much because it was lighter. It worked much better with my foot than what Nike currently makes. So they came to me and said, "Listen, we want to do what you want, so tell us what you want. We're just going to start from scratch. It was music to my ears. We started the process about a year and a half before the 1996 Olympics. The idea was to make a revolutionary shoe, because I wanted something really light and something with incredible support. I wanted it to work with my foot and the way my foot interacts with the trail. I wanted to feel the track. We worked on that for a while. Then we worked on the upper with a lot of materials and fabrics, which were really cool and groundbreaking. One of the last prototypes was a fabric that looked like gold, but it was a mirror. It was metallic, but it looked like a mirror, you could see his reflection in it. It's the one I wanted, and my trainer didn't like it. He said, "The mirror effect is going to be lost, and it's going to look like a silver shoe. That's how I decided it would be gold. The idea that it was going to be gold was not the original idea. It happened at the very last minute after designing this shoe for a year and a half.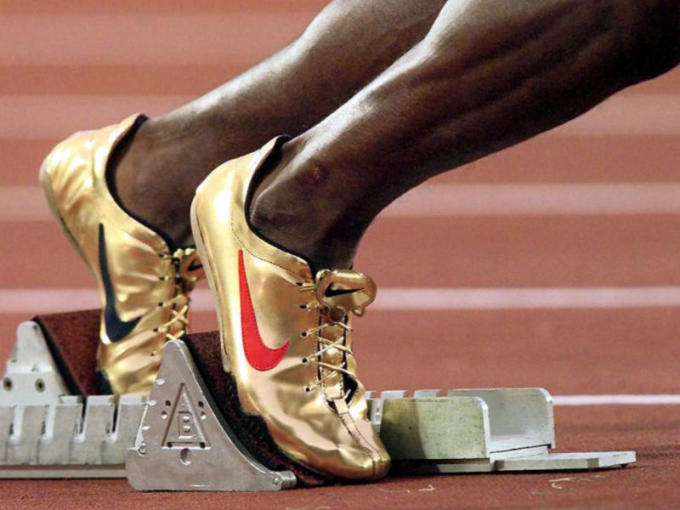 Do you attribute part of your success to shoes?
Absoutely. As a sprinter, this is your only gear, so it's extremely important and it needs to work for you. That's why I was using the old tips, because that's the one that worked for me. There's a huge confidence that you get knowing that this equipment that I have, I built it, I designed it to be what I want it to be.
What's your favorite Nike sneaker right now?
I'm everywhere, man. How are you. I like [Zoom All Out Flyknit], they just came out. But it depends on what I'm doing. I wear sneakers to dress up or when I train or go for a run, so I'm everywhere.
How many pairs do you have at home?
Not that much. I am not a collector. I go through a lot so at any one time I can have around 30 pairs. I go through them a lot because I wear them.